NKOTB: AFTER DARK! Las Vegas July 10-13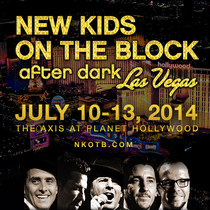 NEW KIDS ON THE BLOCK: AFTER DARK.
The Axis Theater at Planet Hollywood
Las Vegas, NV
July 10, 11, 12 & 13, 2014!
AN EXCLUSIVE ENGAGEMENT * ONLY NORTH AMERICAN SHOWS IN 2014
Join us at the Axis Theater at Planet Hollywood in Las Vegas for what plans to be four AMAZING SHOWS for our only North American appearances this year! Plan on having the best night of your life - 4 nights in a row! And if that wasn't enough, you know we couldn't come to Vegas without great things planned for you. EXCLUSIVE POOL PARTIES!* EXCLUSIVE AFTER PARTIES!* BACHELORETTE PRE-PARTIES!*
EXCLUSIVE VIP PACKAGES will also be available at nkotb.com/vegasvip. Meet us, greet us, get a great ticket to see us. All VIP ticket holders will get FIRST CRACK at all special events we are planning*.
*Details for events beyond our shows will be announced at a later date so check nkotb.com often.
We¹ve also partnered with Planet Hollywood to offer preferred hotel rates starting at only $99! Call 1 (866) 919-7472 and be sure to mention code NKOTB14 when booking your room.
BLOCK NATION PRESALE
As always, Block Nation members will receive first access to VIP Packages and tickets!
VIP Packages will be located HERE and your password for
those packages will be located in your Dashboard on the morning of the presale.
For regular tickets,just login to your Block Nation account and the event will unlock automaticallyat the presale time listed below.
Full Service Members: Thursday, March 27th at 9:00am PT
Premium Members: Thursday, March 27th at 9:30am PT
Amex Pre sale: Friday, March 28th at 10:00am PT
General On Sale: Friday, April 4th at 10:00am PT
We hope you¹ll join us for our once-in-a-lifetime exclusive Las Vegas engagement. Expect lots of surprises! Perhaps even a few special guests! With these being our only North American Shows this year, you KNOW we gotta make em COUNT!
And remember, what happens AFTER DARK, stays AFTER DARK!
PLAN YOUR NKOTB GETAWAY NOW! MORE INFO AT THE LINKS BELOW
PLANET HOLLYWOOD LAS VEGAS
THE AXIS THEATER
POOLS
CLUBS
THINGS TO DO
LAS VEGAS
MCCARRAN AIRPORT