NKOTBSB TOUR DATES!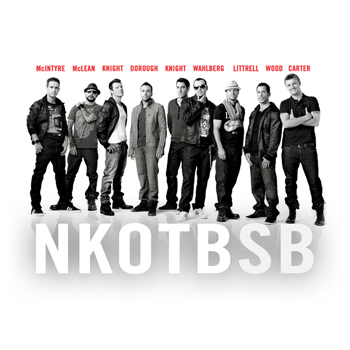 As announced exclusively on Ryan Seacrest's radio show, NKOTB and BSB are making it official. NKOTBSB on ONE STAGE will begin in the summer of 2011. Tickets to this historic event go on sale beginning November 19th at Ticketmaster.com and LiveNation.com.

The NKOTBSB tour, produced by Live Nation includes confirmed dates in Toronto, New York, New Jersey, Chicago and Los Angeles with additional dates to be announced soon.

The public will get their first sneak peak of what's to come on November 21, 2010 as all nine men perform LIVE at the American Music Awards in their first joint televised appearance.

With over 200 million albums sold between both bands, and smash hit after smash hit, these two pop sensations have dominated the music scene for over three decades.
CURRENT LIST OF SHOW DATES (As of November 8, 2010)
THU 9-JUN
Toronto, CAN
Air Canada Center
ON-SALE 10am ET FRIDAY, NOV 19
BLOCK NATION FULL SERVICE PRE SALE TUES, NOV 16th 10am EST
BLOCK NATION PREMIUM PRE SALE TUES, NOV 16th 10:30am EST
BLOCK NATION ILAA PRE SALE, TUES NOV 16th 10am EST
SAT 11-JUN
Uniondale, NY
Nassau Coliseum
ON-SALE 10am ET FRIDAY, NOV 19
BLOCK NATION FULL SERVICE PRE SALE FRIDAY, NOV 12th 12pm EST
BLOCK NATION PREMIUM PRE SALE FRIDAY, NOV 12th 12:30pm EST
BLOCK NATION ILAA PRE SALE FRIDAY, NOV 12th 9amPT/12noon ET
SUN 12-JUN
East Rutherford, NJ
Izod Center
ON-SALE 10am ET FRIDAY, NOV 19
BLOCK NATION FULL SERVICE PRE SALE FRIDAY, NOV 12th 1pm EST
BLOCK NATION PREMIUM PRE SALE FRIDAY, NOV 12th 1:30pm EST
BLOCK NATION ILAA PRE SALE FRIDAY, NOV 12th 10amPT/ 1pm ET
FRI 17-JUN
Chicago, IL
United Center
ON-SALE 10am CT SATURDAY, NOV 20
BLOCK NATION FULL SERVICE PRE SALE FRIDAY, NOV 12th 1pm CST
BLOCK NATION PREMIUM PRE SALE FRIDAY, NOV 12th 1:30pm CST
BLOCK NATION ILAA PRE SALE FRIDAY, NOV 12th 11amPT/ 1pm CT
FRI 1-JUL
Los Angeles, CA
Staples Center
ON- SALE 10am PT MONDAY, NOV 22
BLOCK NATION FULL SERVICE PRE SALE MONDAY, NOV 15th, 9am PST
BLOCK NATION PREMIUM PRE SALE MONDAY, NOV 15th, 9:30am PST
BLOCK NATION ILAA PRE SALE MONDAY, NOV 15th, 9am PST
For complete ticket, VIP/Fan Club and tour information visit NKOTB.COM , NKOTBSB.com , Ticketmaster.com and LiveNation.com